The Expert Mastermind is the best business growth program for equine therapists who are ready to attract more clients, and increase their income without burning out.
You have the skills to help horses…
Let me give you the skills to grow your business.
I'm Nicola Kinnard-Comedie – business coach and mentor, science geek and pony lover.
I work exclusively with equine practitioners to help them attract new clients and restructure their businesses so that they are generating more income without doubling their working hours.
This transformational 12 month program is a complete step by step process for you to work with more clients, and grow your income each month.
This is for you if:
✔️ You love helping horses but you're frustrated with your yo-yo income each month
✔️ You love treating horses, and want to reach more clients each month
✔️ You want the support, and help with creating additional revenue streams so that you can free up more time, and stop writing reports at 11pm
In the Expert Mastermind, you will:
Scale your business by creating additional revenue streams to enable you to help more horses without doubling your working hours
Learn how to find new clients, and overcome limiting beliefs that might currently be holding you back
Master your marketing, increase your visibility and have a bigger impact
Dominate the live launch method enabling you to connect with more horse owners… And so much more
Included in this 12 month program is…
✔️
A coach, 
who will meet with you every month and will check in with your weekly, so that you have ….
✔️ Step by step training on finding new clients, creating a mindset for success and next level business strategies.
✔️ You will have 24/7 access to membership portal and a private Facebook Group
✔️ Anything from content ideas, done for you social media posts, mindset tools, and strategies for finding more clients, plus hours of Continuing Education/CPD produced together with vets on to take YEARS off you path to success.
✔️ 1×1 support and accountability
✔️ You will have your own dedicated accountability coach  you meet with every month, and check-in with weekly so that you have someone who has your back and you don't feel overwhelmed or alone at any point.
Monthly Training on Lead Generation
Nicola will walk you through new ideas and strategies to reach more clients. You can join the co-working session after the call so that you actually get the tasks completed as well.
Monthly Mindset Training
Nicola and a host of guest experts will be helping you take your mindset to the next level. Allowing you to smash those limiting beliefs for good, and work on overcoming outdated programming that is holding you back currently.
Weekly Business and Mindset training
Nicola will walk you through new ideas to reach more clients, as well as deeper mindset work. Allowing you to smash those limiting beliefs and work on overcoming outdated programming that is holding you back currently
Weekly Hot Seats and Live Coaching
Each week you get your chance to get live coaching from Nicola, and these are fantastic implementation sessions. We practice sales skills, overcoming objections and work on whatever you need help that week.
Monthly CPD Each Month
A Pre-recorded training session will be added from the NKC Equestrian Training Vault, all recorded together with vets and leading researchers.
Incredible Community with our private Facebook Group.
At Mastermind level you learn from each other, and this is where some of the magic happens, both on the group calls and our private Facebook group.
Pay monthly - 12 instalments
1. Please select your payment option and sign your contract
2. Look out for your welcome email with your client questionnaire. Please fill that out as soon as possible, as it really does help us make sure we are covering everything you need.
3. You will receive login details for our learning portal – please get started on the pre-study.
4. Look out for a message from your accountability coach regarding your first 1-2-1 session.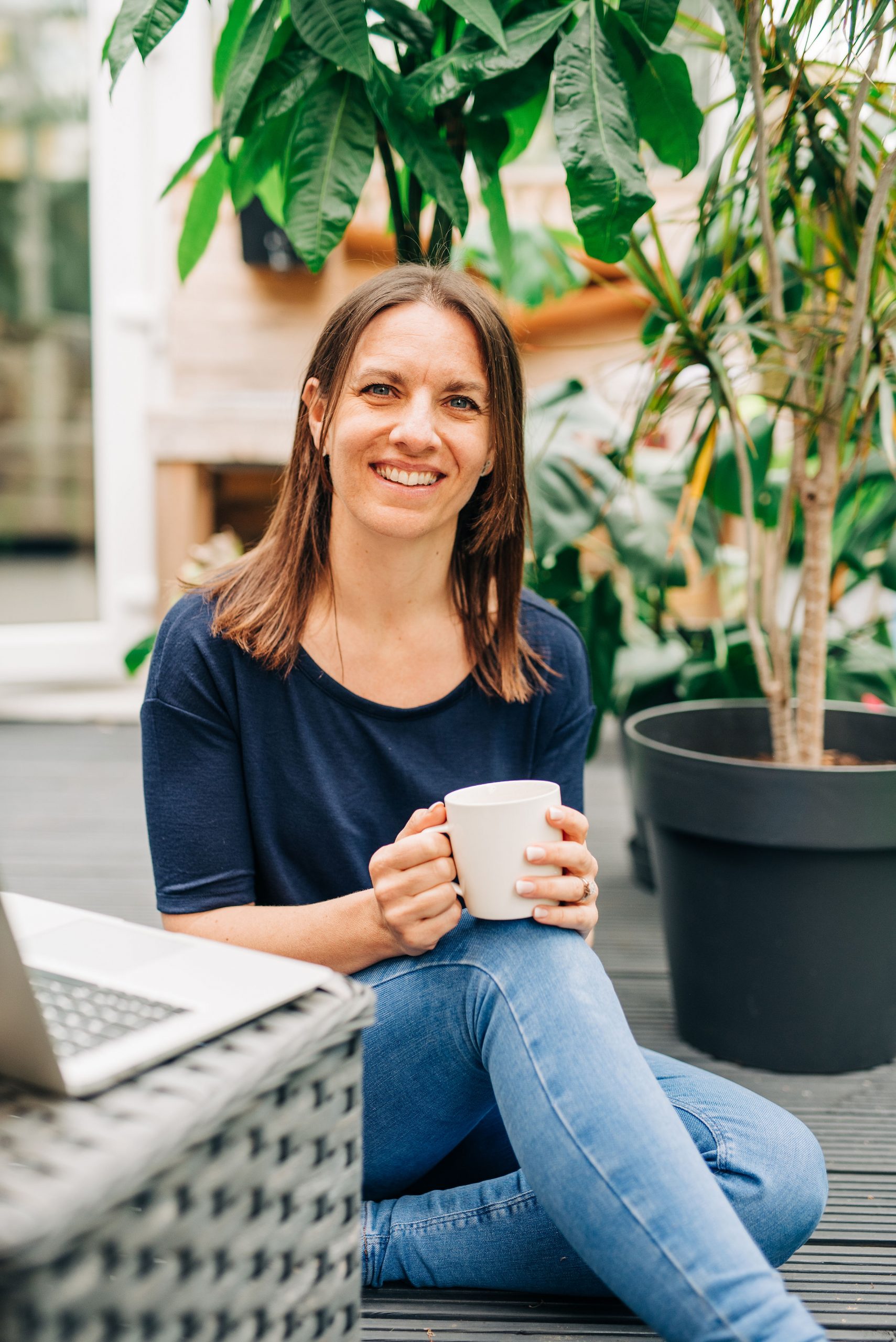 Q. I'm already really busy – do I have time for this?
A. Yes, we will help you make a plan and give you the tools you need. You will save time and get results much faster with support. All practitioners are busy, but you need to prioritise working on your business as well as in it if you wish to grow and scale.
Q: Will this work for me if I'm only working part time as a practitioner?
A: Yes, if you are still in another job and not working full time in your business, the Mastermind will be very beneficial to you. It will help you grow your business so that you can quit your full time job.
Q: I can never make the calls as they aren't in my time zone (or I am at work during the times).
A: Please don't worry, that is quite common. I suggest that you submit your questions ahead of the call and catch up with the replay as soon as you can, and don't forget you can listen to the recordings when your drive, muck out our walk your dogs.
Q: I want to wait to see if I can do this on my own and get results and go from there?
A: Yes of course, but before you make the decision, make sure you get on a call with Nicola so we can see where you have knowledge gaps and where you need help
What Other Therapists Are Saying:
I have been working with Nicola for 9 months now, starting off with the Expert Method Retreat which opened my eyes to a whole new world! She gently but firmly guided me into being a badass business owner, and I have gone from 4 clients a month to regularly hitting my client and income goals every month. I highly recommend working with her, the investment is 120% worth it!
– Fiona Egeler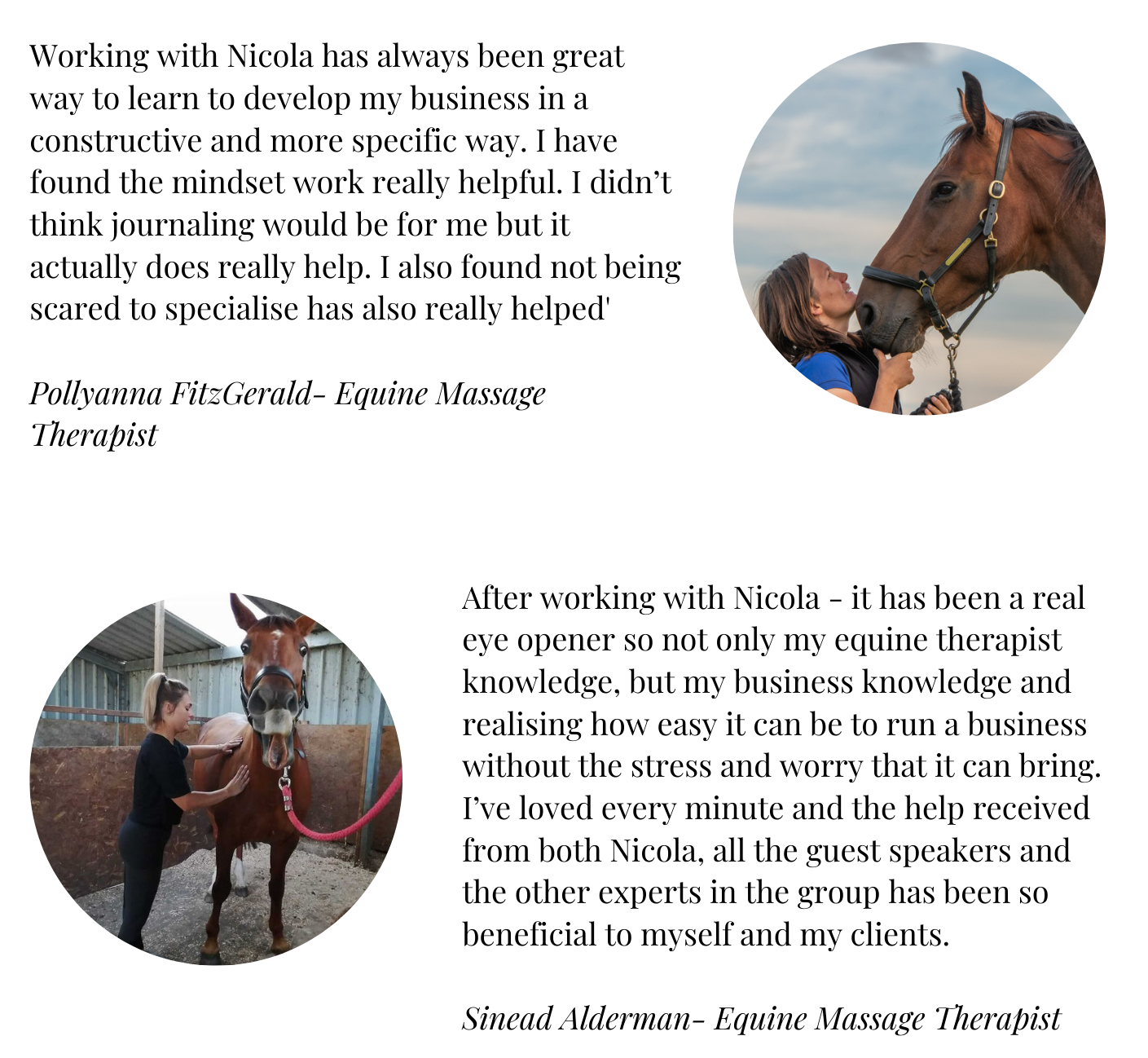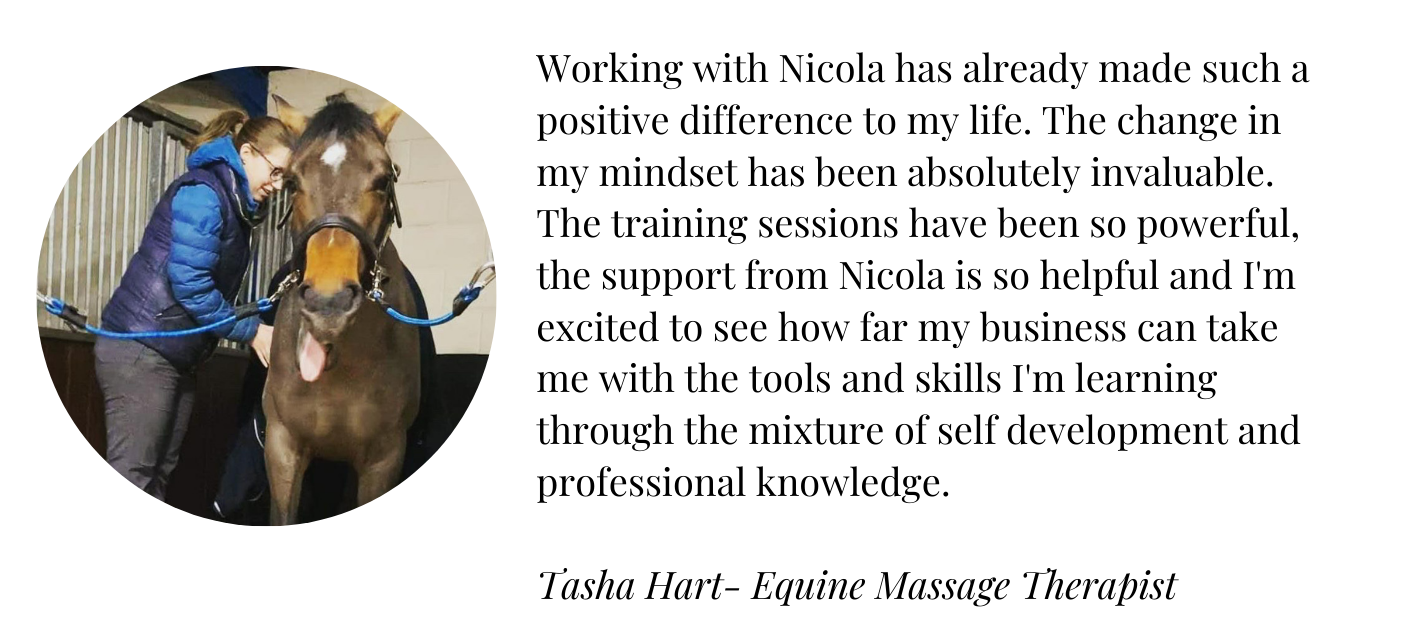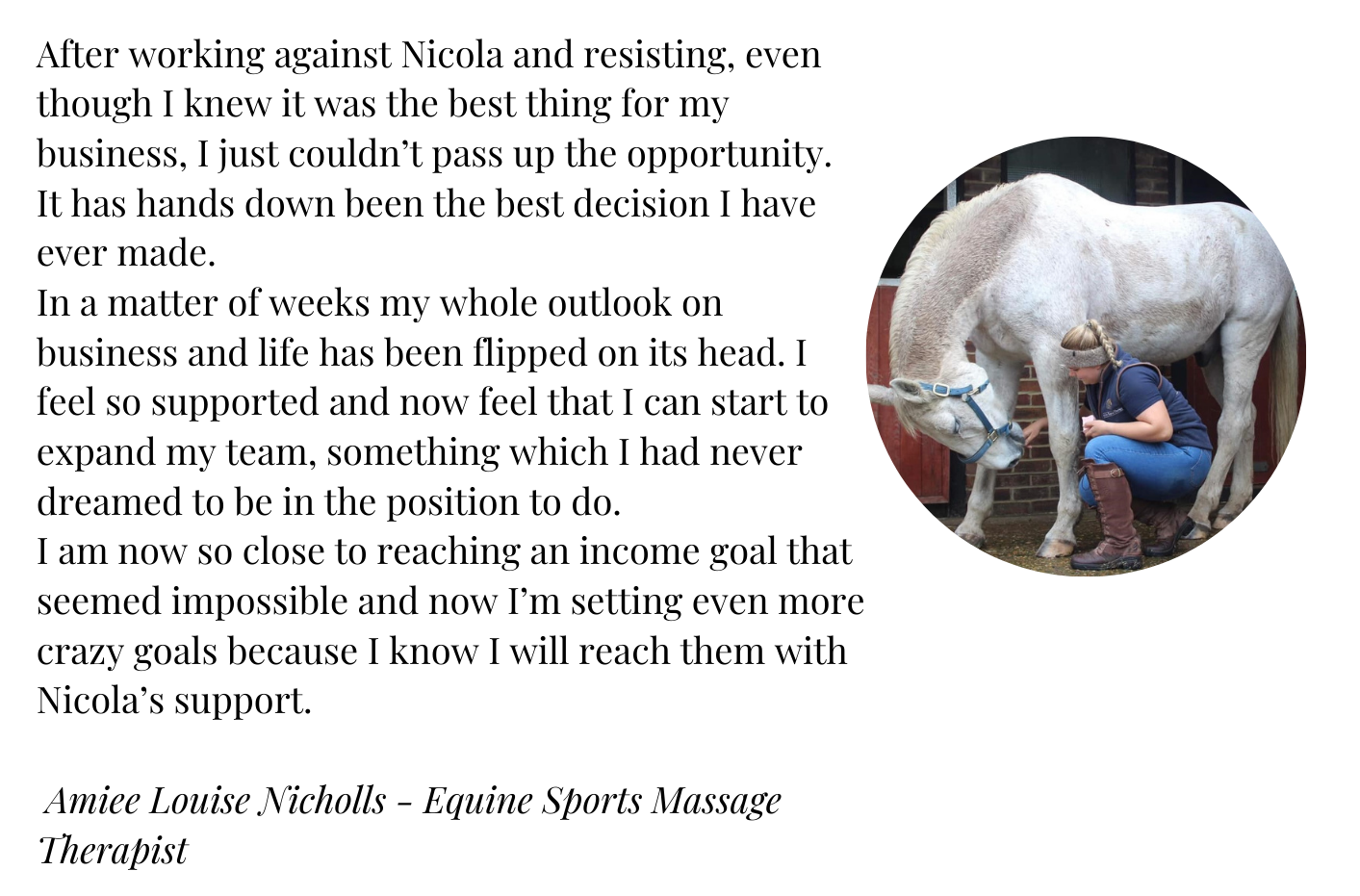 The mastermind brings business boss to an entirely new level! Nicola has helped me with mindset shifts I never thought possible. She is motivated and committed to her clients to help them get the best from themselves which has a major ripple affect into their business, relationships and life in general. Cannot recommend this programme enough. Invest in yourself, you will reap huge rewards.
– Ailin Walsh
I have loved every aspect of the Mastermind, the information and support Nicola has given me has allowed me to grow my business at such a speed I am wanting more! Her knowledge and expertise is second to none and I am so glad I have her support for a whole year. I can't wait to see where my business will be by the end of it.
– Lisa Bartley Veterinary Physiotherapist and Rehab Expert

I first took Nicola's Expert Academy course which was amazing! At the end she brought up a very good question, "What now?" I internally began to panic. She then talked about her Mastermind 12 month course and I had to jump on board! It has been such an awakening journey! Nicola is a terrific coach with so much support and guidance. I love how I can go back and watch the trainings when I fall behind and she is always available for a chat. The group is full of amazing people who support one another which is hard to find in the equine world. I HIGHLY recommend working with Nicola and signing up for the course no matter where you are on your journey as an equine practitioner – it will change your life!
– Kaelyn Dowdy